IT'S NOT ENOUGH!!!!!! MORE. I NEED MORE!!!!!!"

This article is a stub. You can help Aikatsu Friends! Wiki by expanding it.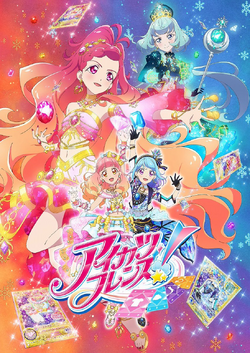 Aikatsu Friends! Brilliant Jewel (アイカツフレンズ!〜かがやきのジュエル〜, Aikatsu Furenzu! ~Kagayaki no Jewel~) is the sequel to TV anime Aikatsu Friends!, and is the anime adaption of its arcade collectible game, Data Carddass Aikatsu Friends! Brilliant Jewel. The series is produced by BN Pictures, and began airing on April 4, 2019.
Plot
Main article: List of Aikatsu Friends! Episodes
Shine! Glimmer! This is my Aikatsu!

Aine and Mio who are now in high school are suddenly in the presence of Hibiki Tenshō—the Aikatsu! artist who has been doing "Space Aikatsu!"—who suddenly fell from the sky.

The dress Hibiki is holding, the "Jeweling Dress" are those who can be only worn by chosen idols, in which radiates a special brilliance!
And her Friends group—in which her partner is Alicia Charlotte—are among the legends!
And in order to grant Hibiki's wish, Aine and Mio will have to draw on something called the "Friends' power"...!?

Star Harmony Academy, where Maika, Ema, Sakuya and Kaguya also are, is filled with even more lively activity.
And the dazzling Jeweling Dress will also appear! Aine and Mio's Aikatsu! The continue to their beginning☆


Having friends are great♪ Being in Friends is great♪ Let's shine more and more together!

Aikatsu Friends! Starting!
Notable Characters
Primary Cast
Secondary Cast
TBA
Staff
Planning・Original Work: BN Pictures
Original Concept: Bandai
Director: Tatsuya Igarashi
Series Composition: Yūko Kakihara
Character Design: Satomi Watanabe
Supervisor: Ryūichi Kimura
Sound Director: Hiroshi Kikuta
Music: DIGZ MOTION SOUNDS
Videos
External links