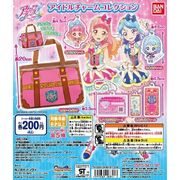 Aikatsu Friends! Idol Charm Collection is a series of Gashapon items available April 2018.
Information
Release Date: April 12, 2018
Price: ¥200
Content
School Pack
A small, plastic 20cm purse based on the school purse from Star Harmony Academy. It is fuchsia with a brown enamel border and straps. On the sides are brown and gold buckle strap designs, along with a gold music bar and Star Harmony Academy logo.
Character Charms
4.5cm charms of Aine Yūki and Mio Minato wearing the Pink Link Coord and Blue Link Coord respectively.
Aikatsu Pass Charm
A 3.5cm charm based on the I.D. Pass used by players. It features a pink diamond tile pattern with a pale border. On the side is a slot for the name next to a large gem.
____
A double-sided 4.5cm charm with one side featuring a hot pink and gold design that has the School logo on it. The other side features an image of Coco.