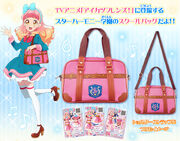 The Aikatsu Friends! Star Harmony Academy School Bag Set is a hand bag based on the one shown in the Anime Series. It can be used for storage of various items or the Aikatsu Friends! Binders, and was released in April of 2018.
School Bag Set
Information
Price: ¥3,564 (tax included)
Content
Appearance
A dark pink purse or bag with brown border and detail and a heart shape at each corner. The shoulder strap is dark brown. At the bottom center is the Star Harmony Academy logo, while above it is a gold musical note bar design circling it.
Gallery
Official Artwork
Anime