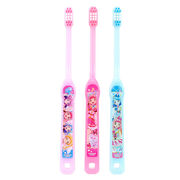 The Aikatsu Friends! Toothbrush 3 Set is a set of toothbrushes released March 7th, 2018.
School Bag Set
Information
Price: ¥410 (tax included)
Content
Toothbrush x3 (W15mm x H160mm)
Character Stickers x4
Accent stickers x4
Appearance
Each toothbrush looks the same, coming in either pearl pink, pastel pink, or pearl blue. The base is wide with a rounded top and cubic hole in the bottom, where a large character sticker can be placed. The head and neck of the brush is thin with white bristles surrounded by darker bristles of the base color. The four different stickers include one of Aine, Aine and Mio, Love Me Tear, and a group shot of Aine, Mio, Maika, and Ema. The four accent stickers are each a single "idol type" color.
Gallery