Wiki Announcements
Jeweling Rare Dresses The latest addition to the family, Topaz! The rest can be found "HERE"

New Userboxes
For more, check out these lists below: 1. Idols 2. Brands/Friends
---
Jo's Render Corner

---
Survey
If you have time, try to fill in a quick survey on what you think about our AiFure Wikia!
What is "Aikatsu Friends!"?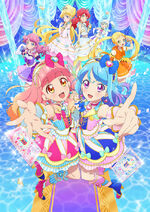 A coming of age story of hardwork and friendship, Aikatsu Friends!
Aikatsu Friends! (アイカツフレンズ!, Aikatsu Friends!), short for Aidoru Katsudō Friends! (アイドルカツドウフレンズ!, Aidoru Katsudō Friends! lit. "Idol Activity Friends!"), is a collectable card game by Bandai and a spin-off of Aikatsu!, another collectable card game by Bandai. An anime adaptation made by BN Pictures that began airing in April 5, 2018.
Aine Yūki who is in the normal division of Star Harmony Academy
is a girl who is good at making friends.
Aine became friends with the academy's top idol Mio Minato,
and are about to appear on a stage together!?

Awaiting for them are Maika Chōno and Ema Hinata,
idols full of personality in which Aine and Mio will encounter,
idols who are busy everyday with both idol life and school life!

The two form a pair and become "Friends",
aiming to become the top idols, the bright "Diamond Friends"!
With the radiance of their dresses, idols Karen Kamishiro and Mirai Asuka
belong to no other than the Diamond Class!

Along with all the drama gathered together!
Dressing up the Aikatsu Cards!

The fans are friends, the cards are friends too!
Lots of friends, lots of dreams!

"Aikatsu Friends!" is about to begin!
Season two, also known as Aikatsu Friends! Brilliant Jewel (アイカツフレンズ!〜かがやきのジュエル〜, Aikatsu Friends! Brilliant Jewel) was announced for both the anime and the Data Carddass game. The second season of the anime began airing on April 4, 2019.
The new series introduces the new type of coords: the Jeweling Dresses, as well as the new idols, Hibiki Tenshō and Alicia Charlotte.
Shine! Glimmer! This is my Aikatsu!

Aine and Mio who are now in high school are suddenly in the presence of Hibiki Tenjō—the Aikatsu! artist who has been doing "Space Aikatsu!"—who suddenly fell from the sky.

The dress Hibiki is holding, the "Jeweling Dress" are those who can be only worn by chosen idols, in which radiates a special brilliance!
And her Friends group—in which her partner is Alicia Charlotte—are among the legends!
And in order to grant Hibiki's wish, Aine and Mio will have to draw on something called the "Friends' power"...!?

Star Harmony Academy, where Maika, Ema, Sakuya and Kaguya also are, is filled with even more lively activity.
And the dazzling Jeweling Dress will also appear! Aine and Mio's Aikatsu! The continue to their beginning☆


Having friends are great♪ Being in Friends is great♪ Let's shine more and more together!

Aikatsu Friends! Starting!
Support our Wiki and give it a like!