Note: FANDOM has migrated our URL from "wikia.com" to "fandom.com"!
Please remember!
Wiki Announcements
Note: Due to excessive spamming on certain pages acoss the three wikis, notably character pages, they are currently under lockdown and are inaccessible to most users. If there is an edit that you would like to make to pages that are locked, please contact Jo SHININGSTAR for more assistance.

New Userboxes
Starting with the Friends Units/Brands!





3rd Collection Brands and Sakuya!
---
Updated Character Pages
Uniform/Diamond Coord renders have been added!
---
Jo's Render Corner
All character's eyecatch jewels are completed!
---
Survey
If you have time, try to fill in a quick survey on what you think about our AiFure Wikia!
What is "Aikatsu Friends!"?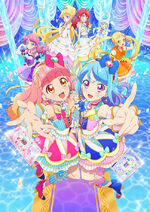 A coming of age story of hardwork and friendship, Aikatsu Friends!
Aikatsu Friends! (アイカツフレンズ!, Aikatsu Friends!), short for Aidoru Katsudō Friends! (アイドルカツドウフレンズ!, Aidoru Katsudō Friends! lit. "Idol Activity Friends!"), is a collectable card game by Bandai and a spin-off of Aikatsu!, another collectable card game by Bandai. An anime adaptation made by BN Pictures will begin airing in April 2018.
Aine Yūki who is in the normal division of Star Harmony Academy
is a girl who is good at making friends.
Aine became friends with the academy's top idol Mio Minato,
and are about to appear on a stage together!?

Awaiting for them are Maika Chōno and Ema Hinata,
idols full of personality in which Aine and Mio will encounter,
idols who are busy everyday with both idol life and school life!

The two form a pair and become "Friends",
aiming to become the top idols, the bright "Diamond Friends"!
With the radiance of their dresses, idols Karen Kamishiro and Mirai Asuka
belong to no other than the Diamond Class!

Along with all the drama gathered together!
Dressing up the Aikatsu Cards!

The fans are friends, the cards are friends too!
Lots of friends, lots of dreams!

"Aikatsu Friends!" is about to begin!
Poll!
Which below is your favorite Brand?
Support our Wiki and give it a like!