Note: The details on this page is only for those that appear in Data Carddass Aikatsu Friends!. To see images or more information in relation to the original Data Carddass Aikatsu Stars! series, please go to Starry Rock Coord on the Aikatsu Stars! wikia.

 Aqua Starry Rock Coord (アクアスターリーロックコーデ, Aqua Starry Rock Coord) is a rare coord by the cool brand Spice Chord. It debuted in the Aikatsu Stars! Series in Part 5 of the Data Carddass Aikatsu Stars! series.
Description
Aqua Starry Rock Top
A tank-top with ruffled, two layered sleeves, one of pale blue, one dark turquoise. Black straps covered in studs adorn the top, while the front portion of it is aqua with leopard spots and the sides are covered in mesh. On the lower corner is a tiny star of red and one violet. A black choker with a silver S is included, along with two chain necklaces, one adorned by a blue star, the other is a silver studded star surrounded by tiny silver stars. On each hand is a blue and silver finger-less gloves with studs on the knuckles and a cut section on the top of each hand. The ruffled powder blue cuff connects to a black and silver buckled strap. On the left arm are three violet, red, and blue studded straps, one of which has a bow on it.
Aqua Starry Rock Bottom
A leopard print skirt cut in four points over a mesh skirt with several studded straps and a trim of metallic studded fabric. On the lower corner is a silver star with two tiny stars, one of red, one violet. The belt is black and silver with multiple stud designs and chains hanging around the skirt accent by charms of studded stars, and smaller stars of white and blue.
Aqua Starry Rock Shoes
Aqua leopard print boots with black studded straps and strings, along with peep toe accent by a blue strap. Around the right boot are two straps, one of red, one violet. The black ruffled cuff has a silver chain adorned by a star on it. The right leg gains fishnet fabric with a cyan studded strap, followed by four of black.
Starry Rock Accessory
Two stars attached, one silver with pearl studs and STAR written on it, along with a dark indigo star connected by a chain to the other one. Black mesh fabric hangs from the smaller star. Included are silver studs, one connected to a pearl chain with a studded star, the other is a small bow with a studded lightning bolt hanging from it.
Cards
Tops, Bottoms, Shoes, Accessories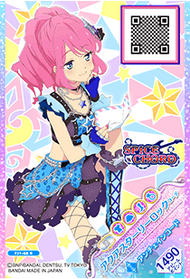 Aqua Starry Rock Coord
Trivia
Gallery
Official Art
Community content is available under
CC-BY-SA
unless otherwise noted.