IT'S NOT ENOUGH!!!!!! MORE. I NEED MORE!!!!!!"

This article is a stub. You can help Aikatsu Friends! Wiki by expanding it.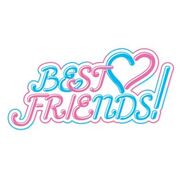 BEST FRIENDS! is a specialized unit formed to be the featured performers for songs in relation to the Data Carddass Aikatsu Friends! and the anime. Each of the members provide both the speaking and singing voice of at least one main character in the Aikatsu Friends! universe, credited mononymously under their characters' names.

Members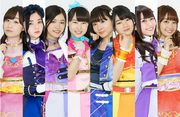 Characters labeled with an asterisk (*) are from the Aikatsu on Parade! series.
Trivia
They have a number of differences with their predecessors STAR☆ANIS and AIKATSU☆STARS!:

Their unit name does not include the word "star" nor does it contain a star symbol (☆).
The members of BEST FRIENDS! provide their characters' speaking voices in addition to their singing voices.
They are also credited under their characters' names instead of their own given names.
External Links
Gallery