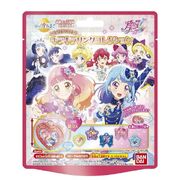 Bikkura Tamago - Aikatsu Friends! is a series of ball-shaped bath additive featuring the Aikatsu Friends! series. It was released on November 7th, 2018. Each one costs ¥410.
Included
x1 Bath Bomb
x1 Ring Charm (10 different types)
Appearance
There is a variety of ribbon, heart, and star-shaped charms. Each is made from glittery translucent plastic and features a unit or Idol in the middle. Each charm has a ring attachment, as well as a hole that can turn it into a necklace.
Heart
The heart charm has an ornate heart border surrounding a single normal heart in the center, and on the bottom is a bead chain design.
The heart is available in red with Pure Palette or yellow with Love MeTear.
Ribbon
A ribbon with a heart-shaped center. The middle of each section has a frilly etched design with a pearl chain on both the top and bottom, surrounding a heart in the middle. On the ribbon tail portion is a diamond etched shape.
There is a dark blue ribbon with Reflect Moon and a light pink one with Aine.
Star
The star charm has a small etched star at each of the side and bottom points, and on the lower-left corner is a smaller gem-like star attached.
It comes in purple with Honey Cat or light blue with Mio on it.
Gallery