Classical Ange (クラシカルアンジュ, Classical Ange) is a cute brand that debuted in Part 2 of the Data Carddass Aikatsu Friends! series and in Episode 02 of the anime. It is founded by Karen Kamishiro.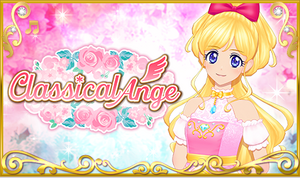 About
Brand Concept
A brand filled with the all the admiration of girls. When wearing the clothing, the brilliance of the dresses can't help but make one look like an angel!
Known Users
Chronology
Cardlist
Data Carddass Aikatsu Friends! Collection Cards
Promotional Cards
Coords
Gallery
Main article: Classical Ange/Image gallery
Trivia
.This Brand bears similarity to Ichigo's brand: Both brands have the word "Angel"