Note: The details on this page is only for those that appear in Data Carddass Aikatsu Friends!. To see images or more information in relation to the original Data Carddass Aikatsu! series, please go to Clock Check Coord on the Aikatsu! wikia.

 Clock Check Coord (クロックチェックコーデ, Clock Check Coord) is a normal coord by the cool brand LoLi GoThiC. It debuted in the original Aikatsu! franchise in promotional collection.
Description
Clock Check Dress
A red gingham dress with writing and several images designed on it, including crosses, Loli Gothic logo, and watches. Sewn to the corner is a large silver pocket watch with a chain beneath it adorned with three diamond gems, two of crystal, one lavender. The top of the chest is black with a jewel adorned cross on the side. Comes with a watch for the left wrist attached to mesh material, and a black lace accessory beneath the right shoulder. A chain hangs from the neck with a blue gem.
Clock Check Pumps
Red pumps with silver sole and straps on top of the foot with a cross attached. A thin red strap wraps around the ankle. Comes with grey gingham stockings with black lace frills and a pattern of silver and red images.
Cards
Tops & Bottoms, Shoes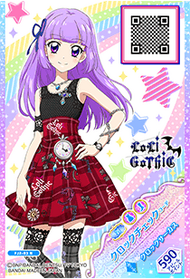 Clock Check Coord
Trivia
Gallery
Official Art