Note: The details on this page is only for those that appear in Data Carddass Aikatsu Friends!. To see images or more information in relation to the original Data Carddass Aikatsu! series, please go to Cross Healing Coord on the Aikatsu! wikia.

  Cross Healing Coord (クロスヒーリングコーデ, Cross Healing Coord) is a normal coord by the cool brand LoLi GoThiC. It debuted in the original Aikatsu! franchise in promotional collection.
Description
Cross Healing Top
A beige top with a slightly darker print and two gold buttons sewn to the middle. The chest is lavender with a houndstooth pattern and lined in dark blue with a trim of white frills. Purple ribbon is sewn through the middle of the chest, while lilac ruffles are sewn around the bottom. The top of the chest and sleeve is grey lace with a purple cuff lined in gold with a violet ribbon on the side. Comes with black lace cuff, each with a large purple stone, and a purple choker with black frills and a gold beaded circle accent by a red Fleur de lis.
Cross Healing Skirt
A skirt to match the torso of the top, sewn with black ruffles around the bottom. A section of lavender accent with a lilac diamond tile pattern and a cross, lined with tiny black frills.
Cross Healing Boots
Pale beige boots with black lining and a dark purple sole with pointed heel. Two gold straps, each held by two gold buttons rest beneath the four petal bow on top of the boot. A large purple stone is sewn to the center. Included are brown, sheer tights with a beige design going down the side of the leg.
Cards
Tops, Bottoms, Shoes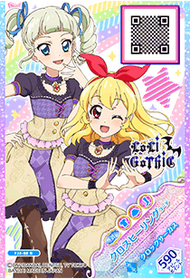 Cross Healing Coord
Trivia
Gallery
Official Art