Note: The details on this page is only for those that appear in Data Carddass Aikatsu Friends!. To see images or more information in relation to the original Data Carddass Aikatsu! series, please go to Glitter Violet Coord on the Aikatsu! wikia.

 Glitter Violet Coord (グリッターバイオレットコーデ, Glitter Violet Coord) is a rare coord made by the sexy brand Spicy Ageha. It debuted in the original Aikatsu! franchise in Part 2 of the Data Carddass Aikatsu! series.
Description
Glitter Violet Corset
A low-cut black and gold corset-style top with dark purple fabric on the chest. Black lace lines the bottom to accent the fabric covering the chest. Fluffy grey fur wraps around the chest and neck with a purple and gold gem butterfly on the left side. Two gold chains hang from it, one attached to the middle of the corset, while the other wraps around the left side of the torso. Included are a pair of black and gold finger-less gloves, and a gold ornate necklace with a garnet gem in the center surrounded by gold and purple pieces.
Glitter Violet Skirt
A glittering purple gradient skirt with black and grey strips on each corner bound by purple string. On the right corner of the waistband is a gold ornament.
Glitter Violet Sandal
Dark purple pumps with a black pointed heel and sole. Gold dots line the top of the foot. Included are sheer black stockings with sections of translucent lace and silver chains wrapped around the legs. The black lace cuff has a purple rose sewn to the side.
Cards
Tops, Bottoms, Shoes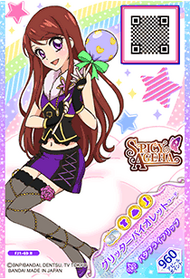 Glitter Violet Coord
Gallery
Community content is available under
CC-BY-SA
unless otherwise noted.