Note: The details on this page is only for those that appear in Data Carddass Aikatsu Friends!. To see images or more information in relation to the original Data Carddass Aikatsu Stars! series, please go to Lovely Pink Letter Coord on the Aikatsu Stars! wikia.

 Lovely Pink Letter Coord (ラブリーピンクレターコーデ, Lovely Pink Letter Coord) is a rare coord by the cute brand Rainbow Berry Parfait. It debuted in the Aikatsu Stars! Series in Part 3 of the Data Carddass Aikatsu Stars! Wings of Stars series.
Description
Lovely Pink Letter Top
A pastel pink top with pink fabric at the middle adorned with a pale pink diagonal stripe pattern. White ruffles trim the bottom and shoulder straps, while white, folded material resides on the top of the chest with thin powder blue and pink stripes on the border. On the left corner of this are two gold buttons. A white ribbon with matching border and trim of frills wraps around the navel, with Love You written in dark mauve to line the middle. Sewn to the center of the ribbon is a hot pink gem heart. Includes a pearl necklace with a letter charm, and white pleat cuffs accent by a small design inches from the bottom.
Lovely Pink Letter Skirt
A pink skirt with thin, pale pink diagonal lines and a trim of pale pink lace and ruffled white material. Around the hem are many alternate notes and letters. Sewn to the right corner is a yellow button with pearl beads attached to a tiny lilac bow and a pale pink tag.
Lovely Pink Letter Booties
Pastel pink booties with a hot pink sole. The cuff is white, trim with thin lines of powder blue and pink. On the side is a letter decoration with a hanging charm. The user gains pearl pink tights with designs on the right thigh and on the lower left leg.
Lovely Pink Letter Accessory
A ribbon designed to match the one on the torso. Gold pearl dangles are included, attached to a heart with an arrow through it. The heart is a gem of red, blue, and yellow.
Cards
Tops, Bottoms, Shoes, Accessories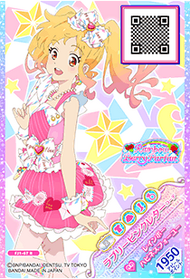 Lovely Pink Letter Coord
Trivia
Gallery
Official Art
Community content is available under
CC-BY-SA
unless otherwise noted.