Note: The details on this page is only for those that appear in Data Carddass Aikatsu Friends!. To see images or more information in relation to the original Data Carddass Aikatsu! series, please go to Masquerade Hime Dress Coord on the Aikatsu! wikia.
Masquerade Hime Dress Coord
マスカレードヒメドレスコーデ
Statistics
Type
Sexy
Brand
None
Rarity
Normal
First Appearance
Data Carddass Game
Brilliant Jewel - Part 1
Anime
So Many Idols! (original Aikatsu!)

 Masquerade Hime Dress Coord (マスカレードヒメドレスコーデ, Masquerade Hime Dress Coord) is a sexy brandless normal coord. It debuted in the original Aikatsu! franchise in promotional collection.
Description
Masquerade Hime Dress
A dress composed of a dark purple tank-top. Beneath the chest is a section of hot pink ruffles, while at the center of the lower torso is a yellow string design resembling a corset. The skirt is in three layers; two of which are a short, pleated pink tutu, while the last is a straightened hot pink. Sewn on the back is a large red ribbon. Small puffed sleeves hang below the shoulder. The dress comes with dark purple gloves and a dark purple collar with a small red stone hanging from it.
Masquerade Hime Boots
Dark purple miniature boots with a fuchsia toe. The cuff and upper portion is of a ruffled material with a section at the center cut to reveal the front of the ankle. At the tongue of each shoe is a fluffy yellow pom-pom.
Cards
Tops & Bottoms, Shoes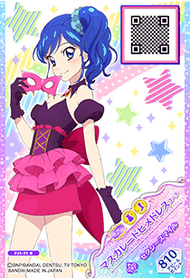 Masquerade Hime Dress Coord
Gallery