Note: The details on this page is only for those that appear in Data Carddass Aikatsu Friends!. To see images or more information in relation to the original Data Carddass Aikatsu Stars! series, please go to Night Safari Coord on the Aikatsu Stars! wikia.

 Night Safari Coord (ナイトサファリコーデ, Night Safari Coord) is a rare coord by the pop brand Shiny Smile. It debuted in the Aikatsu Stars! Series in Part 4 of the Data Carddass Aikatsu Stars! series.
Description
Night Safari Top
A rainbow striped top with hot pink bear ears, one with a blue inner-ear, the other gold. On the chest are two large buttons with alternate stitching, and a dark blue striped bow. A purple chain hangs from this, adorned by fruit charms. Dark blue puffy fabric covers the shoulders with a star and paw print. Comes with dark blue finger-less gloves with rainbow studs and a fluffy cuff, one gold with leopard spots, the other is a white and pink tiger stripe. On the neck is a dark pink choker with rainbow spikes and a gold buckle. The user gains violet nails.  
Night Safari Bottoms
Slightly puffy dark blue pants with slashes on them, along with small colorful paw prints and a single, large paw made from different designs. The ruffled cuff is hot pink with polka-dot print, accent by a small bow on either side. The waistband is brown, adorned by rainbow studs and a colorful bead chain hanging on the right hip.
Night Safari Shoes
A pair of shoes with a fluffy pink and white bear head on each toe and a pink heel. One shoe is dark blue, the other is powder blue, each with two buttons beneath the fluffy cuff. The right shoe has a gold striped cuff, while the left is purple. The left leg is covered in dark blue fabric with indigo slashes and colorful paw and bear head print. The cuff is hot pink with rainbow studs. Beneath the right knee is a rainbow paw tattoo.
Safari Accessory
Fuzzy hot pink bear ears, each with a bow adorned by a star and a different inside pattern. The right ear has gold with a purple bow and dark blue star, while the left has a diagonal green and white striping with a polka-dot turqoise bow and a gold star. Included are colorful bead chains attached to a bear head charm, one gold, one blue.
Cards
Tops, Bottoms, Shoes, Accessories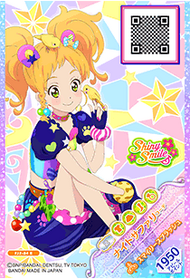 Night Safari Coord
Trivia
Gallery
Official Art