Note: The details on this page is only for those that appear in Data Carddass Aikatsu Friends!. To see images or more information in relation to the original Data Carddass Aikatsu Stars! series, please go to Paint Deco Coord on the Aikatsu Stars! wikia.

  Paint Deco Coord (ペイントデココーデ, Paint Deco Coord) is a normal coord by the pop brand Vivid Kiss. It debuted in the Aikatsu! Series in the promotion of the Data Carddass Aikatsu! 2014 series.
Description
Paint Deco T-Shirt
A black tank-top covered in a pattern of violet diagonal lines and colorful lined stars. Over this is a ruffled white cropped T-shirt with colorful splatters all over it. At the middle is ViVid written in navy. Pastel yellow and purple bracelets are included, along with a green bracelet that has a dark green line pattern, and on the other wrist is a pink mesh sleeve attached to an hot pink chunky bracelet and a gold and green bead bracelet. A chain necklace is included with hot pink, yellow, and purple gems hanging from it.
Paint Deco Denim Short Pants
Denim shorts with rainbow straps, some crossed, surrounding a silver button. Beneath this is an orange belt with a white and red stripe around the middle and a silver, black, and red LA buckle with a heart in the middle. The bottom is frayed and each pocket is line by yellow ruffles, and covering the legs are colorful paint splatters. A red check ribbon is tied on the right hip.
Paint Deco Sneakers
White sneakers with purple and pink sole to match the shoelaces. On top of them are two lilac and light blue bows with a pair of lips sewn to the middle. The top of the shoe is lined in red, and stockings are included with a band of white inches from the top. One is yellow, the other green. Above the left stocking is a lip tattoo.
Cards
Tops, Bottoms, Shoes, Accessories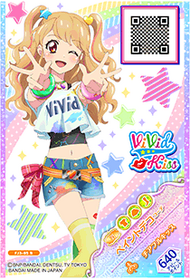 Paint Deco Coord
Trivia
Gallery
Official Art