Note: The details on this page is only for those that appear in Data Carddass Aikatsu Friends!. To see images or more information in relation to the original Data Carddass Aikatsu Stars! series, please go to Passion Doll Coord on the Aikatsu Stars! wikia.

  Passion Doll Coord (パッションドールコーデ, Passion Doll Coord) is a rare coord by the sexy brand Romance Kiss. It debuted in the Aikatsu Stars! Series in Part 3 of the Data Carddass Aikatsu Stars! series.
Description
Passion Doll Top
A glittering red tank-top with strips of dark purple lace and frills on the torso, surrounding four gold straps on a crimson section of material. The bottom is trim with red fabric, while red and dark purple lace straps rest on each shoulder with a ribbon tied beneath them. Red fabric hangs over the chest. Included is a crimson choker lined with frills and adorned with gems, a gold necklace, and dark beige mesh opera gloves with a pattern on the fabric. The cuffs match the choker, and on the left wrist is a gold bangle.
Passion Doll Skirt
A red semi-pleat skirt with a dark purple rose pattern around the hem. A layered peplum of glittering red resides over this, each with thin dark purple lines and ruffled trim. The bottom layer is adorned with colorful gems, while chains of gold links and pearls circle the top layer and middle, accent by a ruby gem on either side. The waistband is dark purple with a skinny gold chain around the bottom.
Passion Doll Sandals
Dark purple sandals with pearls lining the front of the sole. The red strap has a ruby gem at the middle of a pearl base, while red fabric covers the heel. Shiny, dark purple ribbon wraps around each leg with a bow tied and held by a gem.
Cool Doll Accessory
A turquoise bow with black and teal lining, each side connected by a gold pearl chain. In the middle is an amethyst lined by pearls. Sewn to the back are pieces of dark turquoise and black dotted fabric, lined with frills. Gold dangles are included, connected to a topaz gem square, which has pearls, a gold bead, an orange gem, and a ruby hanging from it.
Cards
Tops, Bottoms, Shoes, Accessories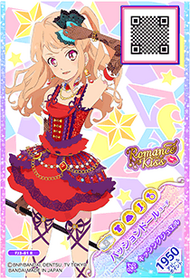 Passion Doll Coord
Trivia
Gallery
Official Art