Note: The details on this page is only for those that appear in Data Carddass Aikatsu Friends!. To see images or more information in relation to the original Data Carddass Aikatsu! series, please go to Pilot Girl Coord on the Aikatsu! wikia.

 Pilot Girl Coord (パイロットガールコーデ, Pilot Girl Coord) is a rare coord made by the cool brand Futuring Girl. It debuted in the original Aikatsu! franchise in Part 2 of the Data Carddass Aikatsu! series.
Description
Pilot Girl Jacket
A sparkling light blue gradient jacket with white fabric on the torso lined in black and adorned by eight buttons. The collar is white with black line detail and a light blue gem on each side, accenting the shoulder straps. Beneath the left shoulder is a silver strap lined in black. The white sleeve cuffs have black detail, and covering most of the neck is black fabric. The user gains white gloves.
Pilot Girl Skirt
A sparkling gradient miniskirt with black detail on the thick white border. On the corner are two silver buttoned straps lined in black to match the included belt. At the middle is a silver and pale blue ornament, while two chains hang on the right hip, attached by diamond studs.
Pilot Girl Boots
Black boots with a silver sole and two buttoned straps on the foot. The white flap cuff has thin black lining and a light blue gem on each side. Beneath the cuff are two, silver diamond-style link chains.
Pilot Girl Accessory
A silver and pale blue diamond surrounded by four triangle shards. On the side are three larger shards resembling wings. The user gains a face design beneath their left eye.
Cards
Tops, Bottoms, Shoes, Accessories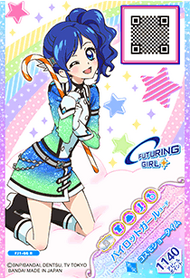 Pilot Girl Coord
Gallery
Community content is available under
CC-BY-SA
unless otherwise noted.