Jurassic World: Dominion Dominates Fandom Wikis - The Loop
Play Sound
Note: The details on this page is only for those that appear in Data Carddass Aikatsu Friends!. To see images or more information in relation to the original Data Carddass Aikatsu! series, please go to Pink Step Coord on the Aikatsu Stars! wikia.
Pink Step Coord
ピンクステップコーデ
Statistics
Type
Cute
Brand
None
Rarity
Normal
First Appearance
Data Carddass Game
Brilliant Jewel - Part 3

  Pink Step Coord (ピンクステップコーデ, Pink Step Coord) is a cute brandless normal coord. It debuted in the Aikatsu Stars! franchise in promotional collection.
Description
Pink Step Onepiece
A glittering hot pink top trim with frills around the navel, and ruffles on top of the chest. The middle has a thin gold line on each side, surrounding a band of fuchsia, where hot pink ribbon is bound by gold diamonds. Sheer, pearl pink fabric covers the collarbone with a pearl chain on each shoulder, and the collar is pale pink with frill lining. On each hip rests a rainbow striped ribbon, while the skirt is in three ruffled layers, coming in pink, pale pink, and pearl pink. Each layer has a large glittery rainbow on it, along with a print of pearls, and gold stars in various sizes, some solid, some lined. A gold, two layered chain necklace is included, along with a tattoo.
Pink Step Sandals
Hot pink sandals with gold lining the bottom of the sole. Pale pink straps adorn the foot and ankle, along with a single, rainbow striped strap. Around the ankle is a pink strap lined with pearl pink ruffles and adorned by a glittering rainbow ribbon adorned by a gold star. A matching garter is included, coated in glitter and adorned by a gold diamond with a pearl and star hanging from it.
Step Headband
A rainbow headband with four gold stars on it. Gold pearl dangles are included, attached to a gold star with glittering, rainbow striped tail.
Cards
Tops & Bottoms, Shoes, Accessory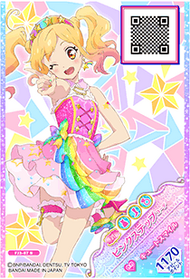 Pink Step Coord
Trivia
Gallery
Official Art