Note: The details on this page is only for those that appear in Data Carddass Aikatsu Friends!. To see images or more information in relation to the original Data Carddass Aikatsu Stars! series, please go to Silent Canary Coord on the Aikatsu Stars! wikia.

  Silent Canary Coord (サイレントカナリアコーデ, Silent Canary Coord) is a rare coord by the cool brand Gothic Victoria. It debuted in the Aikatsu Stars! Series in Part 3 of the Data Carddass Aikatsu Stars! Wings of Stars series.
Description
Silent Canary Top
A pale blue blouse trim with dark blue ruffles, along with white ruffles on the collar and chest. A gold ruffled fringe is sewn around the bottom, accenting the thin ribbon lacing the middle, where glittery, dark milk blue fabric resides. Pearls line this section to match the included necklace, which resides over a dark blue bow striped with pale blue and accent by a large blue gem with two gold tassels hanging from it. Dark blue gloves are included with a pearl bracelet on the wrist attached to white ruffled material.
Silent Canary Skirt
A skirt made from dark glittery fabric covered in a design of pale blue and white flowers covering a black cage with yellow canary in it. Pearls line the hem with three ruffled pieces of fabric beneath it, including: dark blue, glittery dark milk blue, and white. A pale blue peplum split down the center is included, lined with dark blue material and gold fringe. A dark blue designs band is on each side of the skirt, held by a dark blue bow with blue gem and gold tassels hanging from it.
Silent Canary Pumps
Milk blue pumps with a dark blue heel and toe, where a dark blue bow with a blue gem is sewn. Dark blue ribbon circle the top of the foot and around the ankle, adorned with a blue ribbon that has a crystal in the middle and fringe lining the tails. Comes with translucent tights that have a gold and blue design pattern going down the middle of the leg.
Silent Canary Head Dress
A glittery, dark milk blue headband lined with pearls and gold ribbon. Attached to it is dark blue fabric to make a flap, which is lined with white tulle. On each side is a dark and milk blue striped ribbon held by a large blue gem on a gold base. Comes with pearl stud earrings attached to gold dangles with a milk blue rose on the bottom surrounded by tiny gold leaf.
Cards
Tops, Bottoms, Shoes, Accessories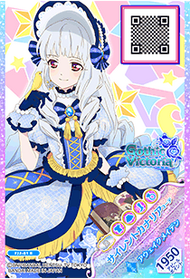 Silent Canary Coord
Trivia
Gallery
Official Art