Note: The details on this page is only for those that appear in Data Carddass Aikatsu Friends!. To see images or more information in relation to the original Data Carddass Aikatsu! series, please go to Smart Flowery Coord on the Aikatsu! wikia.
Smart Flowery Coord
スマートフラワリーコーデ
Statistics
Type
Sexy
Brand
None
Rarity
Normal
First Appearance
Data Carddass Game
Brilliant Jewel - Part 2

  Smart Flowery Coord (スマートフラワリーコーデ, Smart Flowery Coord) is a sexy brandless normal coord. It debuted in the original Aikatsu! franchise in Part 6 of the Data Carddass Aikatsu! 2015 series.
Description
Smart Flowery Onepiece
A dress composed of a white ruffled shirt with a pattern of hot pink, blue, and light purple flowers. Pinned below the left sleeve is a crystal accessory. The skirt is purple with pale lilac lines all over it. Around the stomach is a very thin, dark brown belt with a gold clasp. The dress comes with a gold chain necklace and bracelet.
Red Bijoux Gold Sandals
Black heels with a thick strap of gold over the heel and foot. At the center of each foot strap is a big, light red gem. They come with a pair of sheer, tights with a glittering texture.
Cards
Tops & Bottoms, Shoes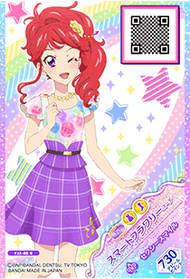 Smart Flowery Coord
Trivia
Gallery
Official Art