Sugar Melody (シュガーメロディ, Sugar Melody) is a cute brand that debuted in Data Carddass Aikatsu Friends! Part 1 and in Episode 04 of the anime. It is founded by Chiharu Hachiya.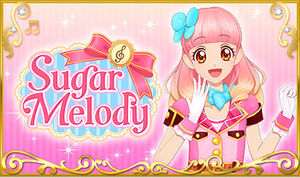 About
Brand Concept
A cute brand with pink as its basis that goes down the road of royalty! Along with the motifs, the brand's special points are its music and rhythm infused dresses and designs♪
Known Users
Chronology
Creation of the Brand
Chiharu started off with designing dresses for Sugar Melody purely as a hobby despite her desires to further develop it. However, the words from her instructor at a previous fashion school had held her back, and Chiharu never found the passion that was needed in her designs until Aine came along. Aine told Chiharu that she fell in love with the designs and wishes to wear it, which inspired Chiharu to finally step forward, thus the debut of Sugar Melody.
Cardlist
Data Carddass Aikatsu Friends! Collection Cards
Promotional Cards
Coords
Gallery
Main article: Sugar Melody/Image gallery
Trivia