Note: The details on this page is only for those that appear in Data Carddass Aikatsu Friends!. To see images or more information in relation to the original Data Carddass Aikatsu! series, please go to Tomboy Coord on the Aikatsu! wikia.
Tomboy Coord
トムボーイコーデ
Statistics
Type
Pop
Brand
None
Rarity
Rare
First Appearance
Data Carddass Game
Brilliant Jewel - Part 1

  Tomboy Coord (トムボーイコーデ, Tomboy Coord) is a pop brandless rare coord. It debuted in the original Aikatsu! franchise in Part 3 of the Data Carddass Aikatsu! series.
Description
Tomboy Overall
A black tank-top with white diagonal lines over a thinner white top. A pastel pattern of orange, pink, and purple dots cover the top, and worn over it is a gold pair of short-style overalls. A pattern of apples, some sliced open, cover them. A single strap is worn on the shoulder while the other hangs loose, held by red buttons. At the middle is a red pocket with frills to match the hip pockets, while the red leg cuffs have a ring of gold in the middle. The user gains a red and gold bead necklace, and a necklace with an apple charm.
Cheers Sneaker
Blue sneakers with a solid platform sole and white toe. The shoelaces are red and gold, and on top of them is the bow ornament from the skirt. The cuff is in three ruffled layers, coming in gold, turquoise, and light green. White and orange swirled stripe socks are included with a gold cuff.
Cards
Tops & Bottoms, Shoes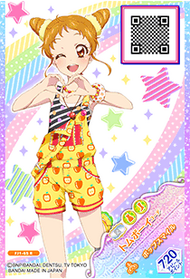 Tomboy Coord
Gallery
Community content is available under
CC-BY-SA
unless otherwise noted.