Note: The details on this page is only for those that appear in Data Carddass Aikatsu Friends!. To see images or more information in relation to the original Data Carddass Aikatsu Stars! series, please go to Treasure Map Coord on the Aikatsu Stars! wikia.

  Treasure Map Coord (トレジャーマップコーデ, Treasure Map Coord) is a normal coord by the cool brand Swing Rock. It debuted in the Aikatsu! Series in Part 3 of the Data Carddass Aikatsu! 2014 series.
Description
Treasure Map Vest
An ivory collared top with a blue cuff bordered in gold and a ring of brown around the bottom. Brown string laces the middle of the chest, and over it is a light blue vest with a map print. On each side of the chest is a pocket with a flap lined in brown to accent the strip on each shoulder and around the bottom, which has gold studs around it and skinny gold lining. The lapel is black with gold border and two diamond-shaped studs on each side. Included is a black studded collar, a gold chain necklace with a tag hanging from the middle, and finger-less gloves made from the vest fabric and gold lining the finger holes. Around the wrist is a black band held by a brown and gold buckled strap.
Treasure Map Skirt
A skirt made from the map fabric. Around the bottom is brown lining, and at the bottom of the right are gold square studs. The middle has a gold V-shape with a navigational map design and a brown strap on each side bordered in gold and adorned by silver studs. The belt is black with a silver border, gold buckle, and gold eyelets.
Treasure Map Boots
Knee-length boots made from the blue map fabric. The sole is silver with a wedge heel. The toe and flap-style cuff is brown, with gold lining the bottom of the cuff and a black band around the middle, adorned by gold studs and buckle. A matching strap wraps around the ankle.
Cards
Tops, Bottoms, Shoes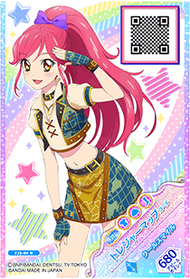 Treasure Map Coord
Trivia
Gallery
Official Art