Note: The details on this page is only for those that appear in Data Carddass Aikatsu Friends!. To see images or more information in relation to the original Data Carddass Aikatsu! series, please go to Twin Color Coord on the Aikatsu! wikia.

 Twin Color Coord (ツインカラーコーデ, Twin Color Coord) is a normal coord by the pop brand Vivid Kiss. It debuted in the original Aikatsu! franchise in promotional collection.
Description
Twin Color Setup
A pale pink elbow-length sweater with the collar, bottom, and sleeve cuff. The left sleeve is milk blue with stripes of white and red near the bottom, adorned by a sun and lips. On the chest is a badge, along with a colorful logo covered in designs and a single pair of lips. The skirt is mostly pale pink with stripes of white and red on the left corner, decorated to match the tops designs. A red knotted fabric with triangles on it is sewn to the hip with a chain beneath it. The right of the skirt is milk blue with randomly placed colorful triangles and a gold chain with decorative charms. The user gains a matching necklace.
Twin Color Booties
Periwinkle booties with a navy sole and white toe, and pastel pink lining. Small yellow and fuchsia triangles decorate the inner side, and on the outer inches from the top is a gold pearl chain with tiny star dangles. White tube socks are included with rings of blue and red around the top, and they are covered in a rainbow of triangles. On the side is a red and yellow design.
Cards
Tops & Bottoms, Shoes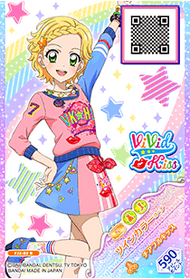 Twin Color Coord
Trivia
Gallery
Official Art